Cover Cars
August 14, 2019
Cover Cars: Bob Petersen & the Start of Hot Rod Magazine
Hot rodders have always yearned to have their home-built, stripped-down, souped-up cars featured on the cover of a magazine — especially one published just for them. That magazine has long been Hot Rod, founded in January 1948 through the vision of one determined young man who understood this burgeoning sport was much more than thrill-seeking young men streaking across the dry lakebeds of the high desert and racing one another on the streets of Los Angeles.

A true American success story, born in East LA in 1926, and modestly self-described as "just a kid from Barstow," 21-year old Robert Einar "Pete" Petersen, set out to create a national publication to cover (and celebrate) the fledgling hot rod community. Hot Rod magazine, and the many other successful publications that followed — Motor Trend, Rod & Custom, Car Craft, Guns & Ammo, Teen, Savvy, and Skin Diver — soon grew beyond his wildest expectations.

"Pete" was a self-made, tough, street-smart guy who never forgot his humble origins, and he was quietly modest about his remarkable achievements.

Looking back, it took guts to establish Hot Rod magazine at a time when "hot rod" was a pejorative term. Alex Xydias, the founder of the So-Cal Speed Shop, recalls, "We didn't really like the term 'hot rod.' That's what the Los Angeles Times and the Hearst newspapers used when they wrote about 'speed-crazed kids' racing on the streets. We simply called our cars roadsters."

Hot Rod made its debut at the First Annual Hot Rod Exposition at the LA National Guard Armory. Years ago, when I asked Pete about boldly using the name Hot Rod, he said matter-of-factly, "That's what they were called. Anything else wouldn't have been believable."

Right from the beginning, when he and partner Bob Lindsay put the money together to publish Hot Rod's first issue, Pete understood the business potential of selling advertisements to budding speed equipment manufacturers. His original assignment had been to gather up ads for the inaugural hot rod show program held at the LA Armory, but he went far beyond that simple brief. Despite his youth, Pete somehow knew that if he could help focus this growing passion, and contribute to making hot-rodding legitimate and safe, the sport would grow — and it would last.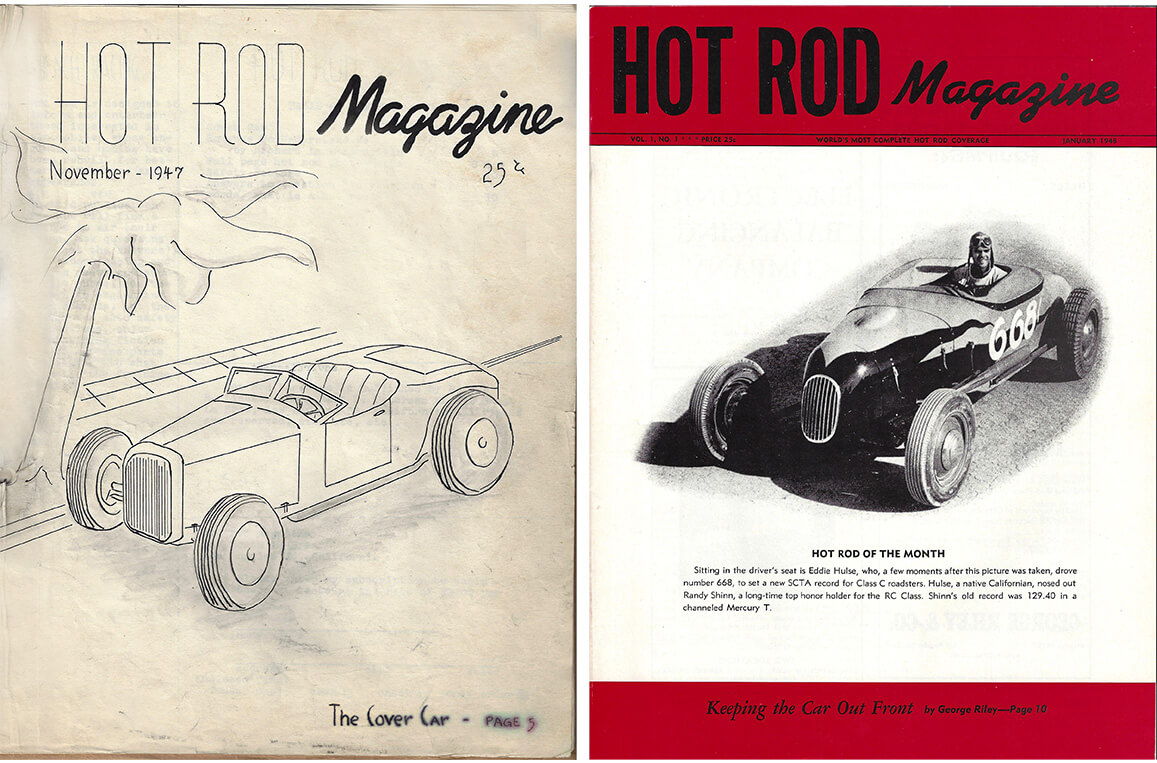 If it hadn't been for Hot Rod, how else would a guy in Ohio who wanted a Winfield camshaft, know where to buy it?


ALEX XYDIAS
It's the stuff of legend that Bob Petersen was hawking the first issues of Hot Rod magazine for 25 cents each on the steps of the LA Armory. Truth was, Pete was told he couldn't sell his magazines inside. His show partners were annoyed that not only had he sold plenty of ads for the program, he'd also sold them to run in his new magazine's first issue.

Optimistically, as was typical of the man, readers of Volume 1, issue #1, were invited to place a subscription order. The price was $3.00 "throughout the world."
"That's how we got enough money to eat, some nights," Pete later said. "We'd be at a drive-in or a race, and we'd say, 'Let's go sell some subs.' We'd sell 'em, then we'd have enough money for supper."

Alex Xydias didn't buy an ad for his fledgling So-Cal Speed Shop in that first issue of Hot Rod. Xydias finally got in on the third issue. "I couldn't see that a magazine that just went to a few dry lakes racers would ever be successful," he confesses. "Our customers might have come from as far away as the San Diego Roadster Club, but we didn't have many guys from Fresno in the SCTA [the Southern California Timing Association].

"Of course, when I did place an ad and started getting orders from guys all across the country, I realized Pete was right. If it hadn't been for Hot Rod, how else would a guy in Ohio who wanted a Winfield camshaft, know where to buy it?"

"Soon, I bought even bigger ads, Alex recalls. "I wanted my little shop in Burbank to look as big as Roy Ritcher's Bell Auto Parts. With his magazines, Pete gave us all that chance.

I've heard people say that speed equipment manufacturers made Peterson rich, but it's just the other way around. Thanks to his magazines, he made many other people successful and wealthy." Hot Rod magazine was tiny at first. Pete's partner, Bob Lindsay, initially managed the office side of the business while Pete sold subscriptions, wrote and sold ads, took many of the photos, planned editorial content, and even wrote copy.

Sometimes he really had to work to get an advertiser. He liked to tell a story about Vic Edelbrock Sr., a winning dry lakes racer who developed and sold speed equipment out of his gas station on Highland Avenue. At first, Edelbrock didn't want to buy ads in Hot Rod. After Pete convinced Vic to spend some money on quarter-page ads (with Pete writing the copy and photographing the equipment himself), Edelbrock complained his phone was ringing off the hook "and we don't have time to pump gas."

Pete was a wonderful judge of people… He especially valued loyalty and trust. No one I know had so many 30- to 40-year-old friendships. He gave so many people great opportunities.

BRUCE MEYER
To cut down on phone calls, Pete convinced Edelbrock to offer a catalog for 25 cents. Vic soon responded they were making a fair amount of money selling catalogs to people all over the country, but the work involved in responding to the mail meant they still didn't have time to sell gas.

Petersen gently suggested to Edelbrock that "perhaps" he wasn't in the gas station business anymore — and that now he was a "speed merchant."

Trained during World War II as a reconnaissance photographer, Pete was responsible for many noted cover shots for Hot Rod, like Bob McGee's roadster (owned now by Bruce Meyer), Alex Xydias' So-Cal belly tank, and the Bill Burke/Don Francisco tank. Even after he stopped shooting for his magazine, he always took along a small camera.


Asked the "secret" to the success of his publications, Pete responded, "We hired talented guys who really knew about the subject matter: cars, guns, surfing, skin-diving, whatever. We could always teach people how to write, but it was more important that they knew what they were talking about."

And he could pick 'em: Wally Parks, Barney Navarro, Eric Rickman, Bob D'Olivo, Don Francisco, Roger Huntington, Ray Brock, Racer Brown, Tex Smith, Tom Medley, Alex Xydias, Don Prieto — the list goes on and on. That style of knowledgeable, in-depth reporting gave Hot Rod and, later, Motor Trend authentic, first-person validity. From the beginning, Pete's magazines were written by experienced, respected authorities — a quality those magazines still possess.

"Pete was a wonderful judge of people," says CF200 Chairman and Petersen Museum Founding Board Member Bruce Meyer. "He could read them astutely, and he could recognize opportunities. He especially valued loyalty and trust. No one I know had so many 30- to 40-year-old friendships. He gave so many people great opportunities."
Characteristically, Petersen was modest about his role in establishing the NHRA (National Hot Rod Association) and SEMA (the Specialty Equipment Marketers Association). From the beginning, he understood that legitimizing this so-called "outlaw" hot rod sport required a bona fide trade organization and a national "club," so guys all over the country could feel they were a part of something more important than fixing up old cars, dry lakes competition, and even street racing. Bob Petersen helped underwrite both organizations and played a key role in their expansion. Besides being the right thing to do, it was good for business — and despite his lack of formal education, Pete was instinctively an astute businessman.

Wally Parks, fourteen years his senior and president of the SCTA, was highly respected in the hot rod community. Pete clearly understood Wally could be of inestimable help, in many ways. Early on, he retained Parks to be the editor of Hot Rod, because he knew his experience as a winning dry lakes racer, the SCTA's leader, and a capable organizer provided the credibility his fledgling magazine, and later the NHRA, sorely needed.

When hot rodders began racing at Bonneville and setting World records, Pete and Hot Rod were right there. The magazine sponsored efforts at Daytona Beach, La Carrera Panamericana (the Mexican Road Race), drag strips from Half Moon Bay to Santa Ana, and clear across the country.

Almost as soon as Hot Rod could stand on its own two feet, Petersen was back the following year with Motor Trend, "The Magazine for a Motoring World," a broadly focused monthly that covered the new car industry, road-tested new models and attracted an even wider variety of advertisers than Hot Rod.

Alex Xydias recalls, "Pete realized there was a need for a national magazine that covered both domestic and imported cars. Besides," Alex laughs, "he knew selling an ad schedule to Ford Motor Company was worth a lot more than selling a handful of small ads to speed shops."

Later in life, Pete and his wife, Margie, generously established a Foundation to purchase what would become the Petersen Automotive Museum from the County of Los Angeles. Although they didn't live to see the success it is today, the generous bequests of the Petersens and the hard work of Peter Mullin, David Sydorick, Bruce Meyer, and an all-star cast of enthusiasts made it happen.

The best part of my job as Executive Director at the Petersen Museum, a position I enjoyed from 1996 to 2000, was having long lunches with Pete, where he'd talk about Hot Rod as well as racing personalities, noted movie stars (he knew a lot of Hollywood and film industry people), celebrities and politicians. He was modest about his friendships, he appreciated loyalty, and he withheld criticism of people, for the most part, especially if a person was deceased.
Pete was a very classy guy, in ways that transcended his obvious wealth. And he had an intense competitive streak.

One day, he brought a bound volume of the first year of Hot Rod Magazine to lunch. We leafed through a few issues, commenting on people and the feature cars he remembered. He reflected on an April 1948 Hot Rod cover featuring Stuart Hilborn and his record-setting lakester — the first fuel-injected hot rod and the first streamliner to top 150 mph.

"I took that picture in front of Stuart's mother's garage," Pete said. "Any idea where that car is now?"

I told him that the Hilborn car had disappeared after a brief appearance at a drag strip in Kansas many years ago, and that Bruce Meyer had placed some ads in Rod & Custom looking for it."

"Well, you'd better find it before he does," said Pete. And he meant it.

Confident without being overbearing, with a well-developed sense of humor, Pete had an uncanny ability to read an ongoing situation almost as though he were outside watching events transpire, then say just the right thing at the right moment.

Like the skilled fisherman that he was, he had uncanny patience. He didn't have to make the first move; he instinctively knew how and when to make the one that would count. Pete would have been one hell of a gunfighter in the old West.

While he was a bachelor, Pete dated some of the most beautiful women in Los Angeles, but that all changed when he met Margie McNally, a lovely New York model and former "Miss Rheingold." Carroll Shelby remembered meeting her on Pete and Margie's first date. "I started to say something about women we knew, and then I said I had to get my date home before her husband got there. Pete kicked me under the table. 'Why'd you do that?' I asked him. 'I really like this girl,' Pete replied. He proposed to Margie on that first date!" Shelby added: "After Pete met Margie, he was never interested in another woman."

Pete was devoted to Margie. The tragedy they suffered in 1975 — losing their sons, Bobby and Richie, in a plane crash — might have destroyed many marriages, but it brought them closer together. They were very generous to organizations like the Boys & Girls Clubs of Los Angeles, and the Thalians, and they supported the mental health center at Cedars-Sinai Medical Center. The Petersens helped countless Los Angeles kids, even though they'd lost their own.

Today, beautifully rebuilt and reimagined, a lasting tribute to Pete and Margie, the Petersen Automotive Museum is heralded as one of the finest institutions of its kind in America. And 70 years on, Hot Rod magazine and its retro companion, Hot Rod DeLuxe, are stronger than ever — and hot rodders still want their cars featured on the covers.