Early Electric Cars Headed to the 70th Pebble Beach Concours d'Elegance
June 29, 2021
Electric vehicles first appeared as far back as the mid-19th Century and for a time it was thought that electric technology might hold sway over the gas combustion engine.
1896 Riker Electric Roadster
This 1896 Riker Electric Prototype was designed by Andrew L. Riker, a prolific inventor, and it is being shown at Pebble Beach by the Riker family. Created in Brooklyn, New York, the prototype is a single seat EV roadster outfitted with tiller steering as well as coil over suspension for both the front and rear axles. Its innovative powertrain combined Riker's patented 3 hp Riker Electric Motor (Serial No. 1412) with five 8-volt batteries.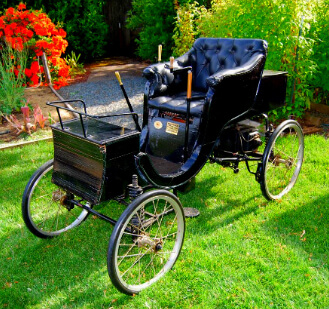 1898 Riker Electric Phaeton
This 1898 Riker Electric Phaeton was designed, built, owned, and raced by Andrew Riker himself. This example won some of the earliest sanctioned automotive races in the United States and abroad, including the first-ever 50-mile-race sanctioned by AAA in 1900. It also placed first at the Exposition Universelle Internationale held in Paris that same year.
1901 Columbia Mark XXXI Victoria Phaeton
This 1901 Columbia Mark XXXI Victoria Phaeton was manufactured by the Columbia Automobile Company, which began as an offshoot of Pope's bicycle business which was then acquired by the Electric Vehicle Company. The car was capable of 28 mph aided by its three forward and two reverse speeds.
1905 Columbia Mark XXXV Brougham
The Columbia Mark XXXV is a unique early electric featuring two electric motors that drive each of the massive 42-inch solid rubber rear tires independently through an internal ring gear. This example also features a stunning and imposing enclosed passenger coach.
1912 Baker Victoria
This 1912 Baker Victoria was garaged at The White House and used through four administrations — from the William Howard Taft presidency to that of Woodrow Wilson, Warren G. Harding, and Calvin Coolidge. It served as personal transportation for both the presidents and their First Ladies.
1912 Rauch & Lang TC4
This elegant Rauch & Lang TC4 was owned by the prolific inventor and pioneer of electricity Thomas A. Edison himself. The TC4 features a unique layout with an exposed chauffeur seat and a tall luxurious passenger cabin reminiscent of horse-drawn carriages previously produced by Rauch & Lang.
1922 Milburn Light Electric 27L
The Milburn is a very good example of the last generation of electric cars. The styling is that of a horse-drawn buggy. Autonomy is limited to 100 miles and the speed to 20 miles per hour.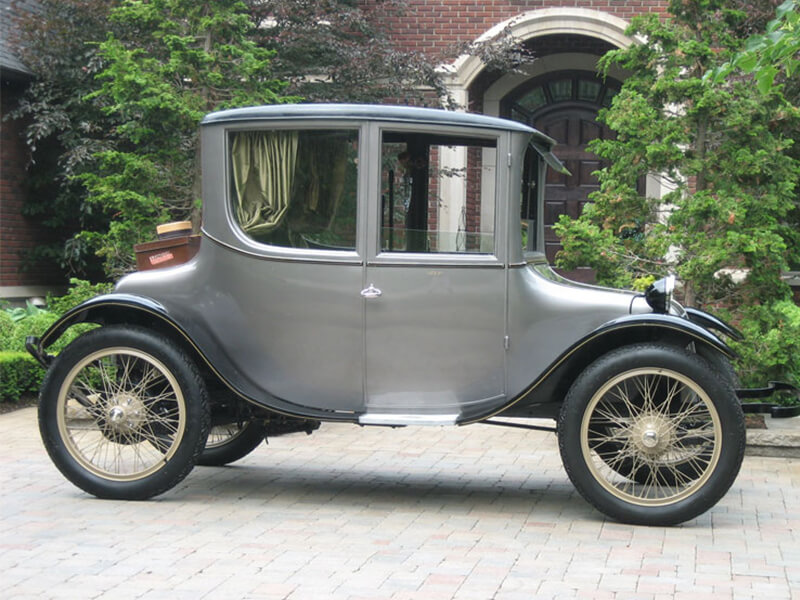 1908 S.R. Bailey Electric Victoria Phaeton
This 1908 S.R. Bailey Electric Victoria Phaeton is the second of two electric cars owned by Larz and Isabel Andersons, and was Isabel's favorite car. This automobile is notable for being the first electric car to travel 1500 miles from Boston to New York City to Chicago, going 21.5 mph without any repairs or replacements needed.