Our 2022 Posters
August 5, 2022
Three magnificent cars—a historic prototype, a racing-great, and a style icon—come to life on this year's event posters, showcasing the splendid array of automobiles brought to the Concours every year.
2022 Concours Poster
A 1941 Lincoln Continental is the focus of our Concours poster. Inspired by the look of European cars, Ford Motor Company president Edsel B. Ford had his team, led by Ford's Chief Designer ET "Bob" Gregorie, design a vehicle with similar features—a long hood, an automatic convertible top, and a low-sitting frame—resulting in one of the most elegant American production cars of all time. Here the car it inspired is joined by a 1932 Lincoln KB Murphy Roadster and by Ford himself.
2022 Tour d'Elegance Poster
The Ferrari 250GTO set the benchmark for early sixties GT racing, and this GTO (4153GT) is legendary in its own right. It competed at the 24 Hours of Le Mans in 1963, taking 4th overall and 2nd in class, and subsequently won the 1964 Tour de France Automobile. It can be seen here blasting down Highway 1, with the owner's Ferrari 250 Tour de France and Aston Martin DB4 GT Zagato chasing.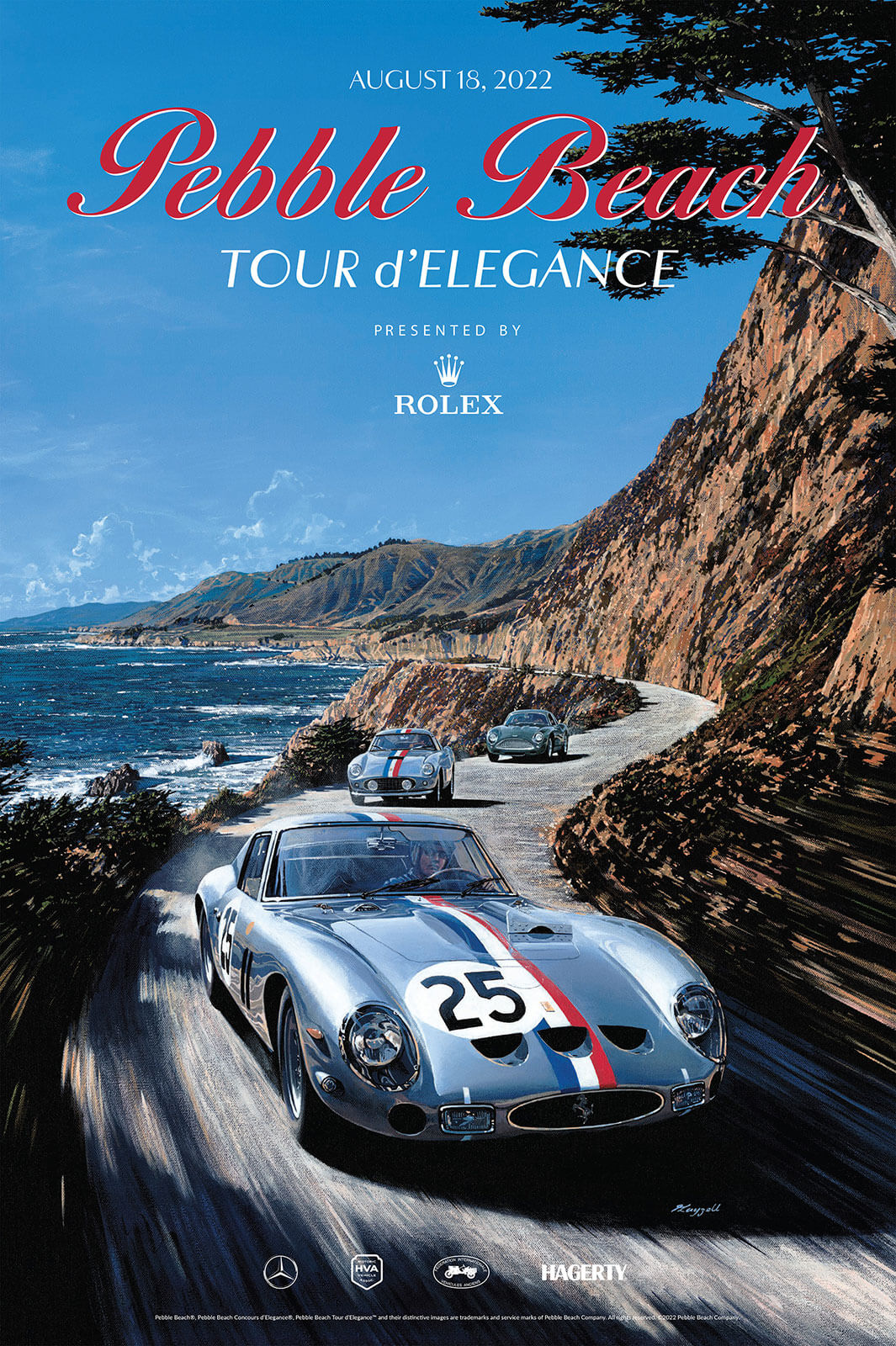 2022 RetroAuto Poster
This 1937 Talbot-Lago T150C-SS Figoni & Falaschi Teardrop Coupe is regarded as one of the most beautiful cars ever made. The car speaks for itself, with jaw-dropping coachwork that truly captures the era in which the Teardrop design came to life. It is seen here driving around the beautiful 17-Mile Drive towards Pebble Beach, with The Lone Cypress looking out to the Pacific Ocean.
Our Poster Artist
Tim Layzell, a world-renowned motoring artist, painted all three of our posters this year. Some works demonstrate an eye to realism and detail, reflecting a nostalgic element of color photography from the 1950s into the early '60s. Other works show a distinctive "pop art" style where solid blocks of color and strong lines bring attention to the core of the painting. Learn more at www.timlayzell.com.