Our 2023 Posters
August 7, 2023
Our posters this year, all painted by artist Tim Layzell, pair the elegance, power and sporting prowess of four great collector cars with the beauty of Pebble Beach.
PURCHASE OUR EVENT POSTERS HERE
2023 Concours Poster
A magnificent Mercedes-Benz SSK (chassis 36046) with a two-seater sports body, rests on the lawn of The Lodge at Pebble Beach, with the famed 18th green of Pebble Beach Golf Links and Stillwater Cove as backdrop. The SSK was the ultimate development of the S chassis, which made its mark on both road and racecourse in the Classic Era. Sold initially through a London dealer to Roy Lewis and now in the care of Rob Walton, this SSK has a continuous ownership history and has been carefully conserved over time.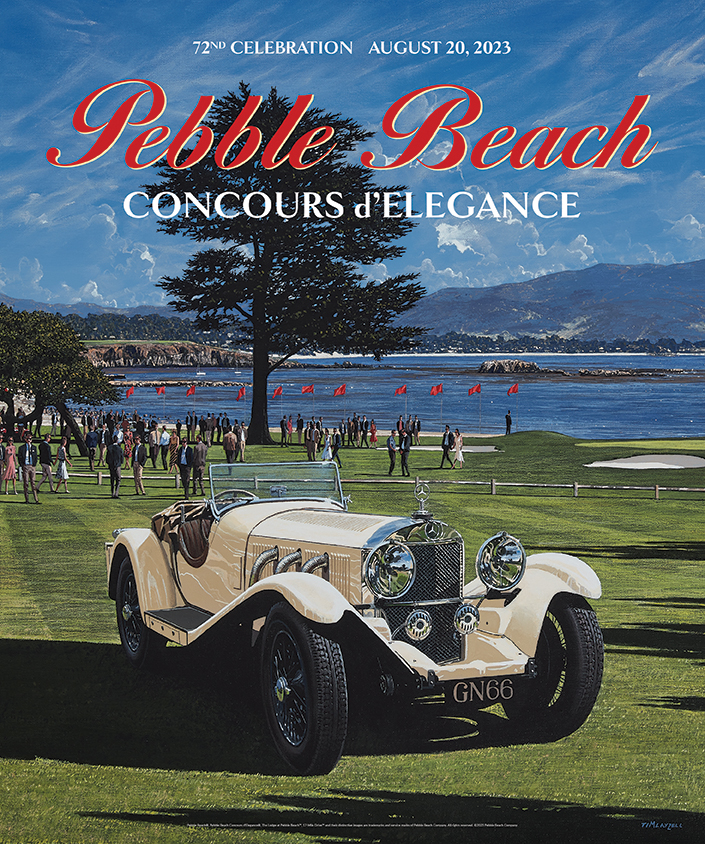 2023 Tour d'Elegance Poster
Created to help revive Spain in the years following World War II, Pegaso focused primarily on delivering commercial vehicles. But the world took notice when it showcased its car-making abilities in the Pegaso Z-102, a daring Gran Turismo that debuted at the 1951 Paris Auto Salon. Here two of these gems, a quick 1952 ENASA-bodied Lightweight Coupe prepped for international competition and by a lovely 1953 Touring-bodied Coupe, dart along 17-Mile Drive, tracing the edge of the Pacific. Both cars are currently in the keeping of Nicholas and Shelley Schorsch.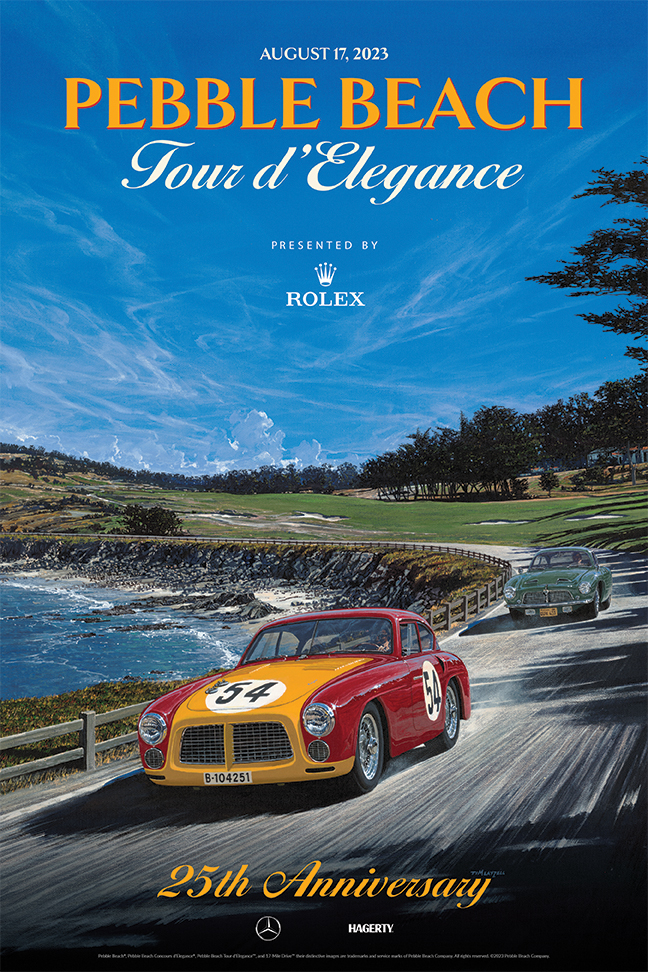 2023 RetroAuto Poster
Embodying both elegance and drama, a 1939 Delahaye 135 MS Figoni et Falaschi Torpédo Cabriolet pulls up to The Lodge at Pebble Beach at night. Bodied by Figoni et Falaschi the curves of the Torpédo Cabriolet, and its deep ruby hues (officially Andalusian red), reflect the golden light. Joseph Figoni built 69 cabriolets for Delahayes, but he built just one torpedo cabriolet—and this is it. Jeffrey and Frances Fisher are sharing the car here to help us celebrate the centennial of Joseph Figoni and his creations.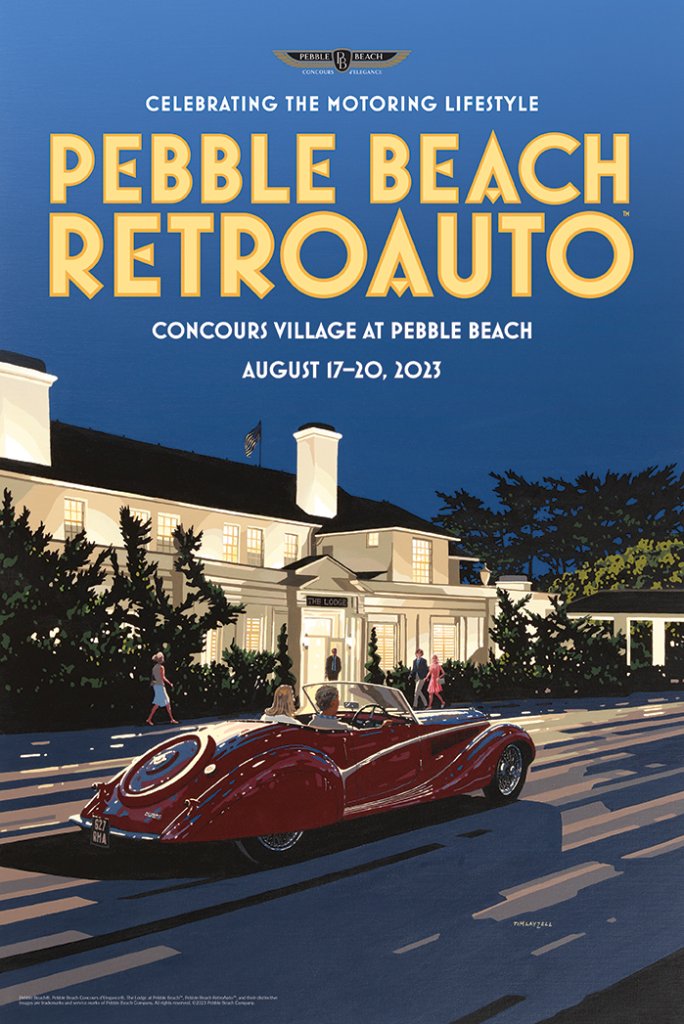 Our Poster Artist
Tim Layzell, a world-renowned motoring artist, once again painted all three of our posters this year. Some of Tim's works demonstrate an eye to realism and detail, reflecting a nostalgic element of color from the 1950s into the early 1960s. Other works show case his distinctive "pop art" style, where solid blocks of color and strong lines bring attention to the subject. Learn more at www.timlayzell.com.