The Destination for the True Automotive Enthusiast
Thursday, August 15 – Saturday, August 17
9:00 am – 6:00 pm
Concours Sunday, August 18
8:00 am – 6:00 pm
An automobilia enthusiast's dream, Pebble Beach RetroAuto hosts a highly curated selection of rare collectibles and memorabilia from the automotive past, to the latest luxury goods and technological tools of the present.
Located in Concours Village at Pebble Beach, RetroAuto features an elegant and thoughtfully curated collection of exhibitors. Visit and find rare collectables, historic automobilia, art and literature, as well as luxury items, technological tools and official Pebble Beach Concours d'Elegance merchandise.
This special retail spot is a must see and is open to the public at no cost from Thursday to Sunday of Pebble Beach Automotive Week.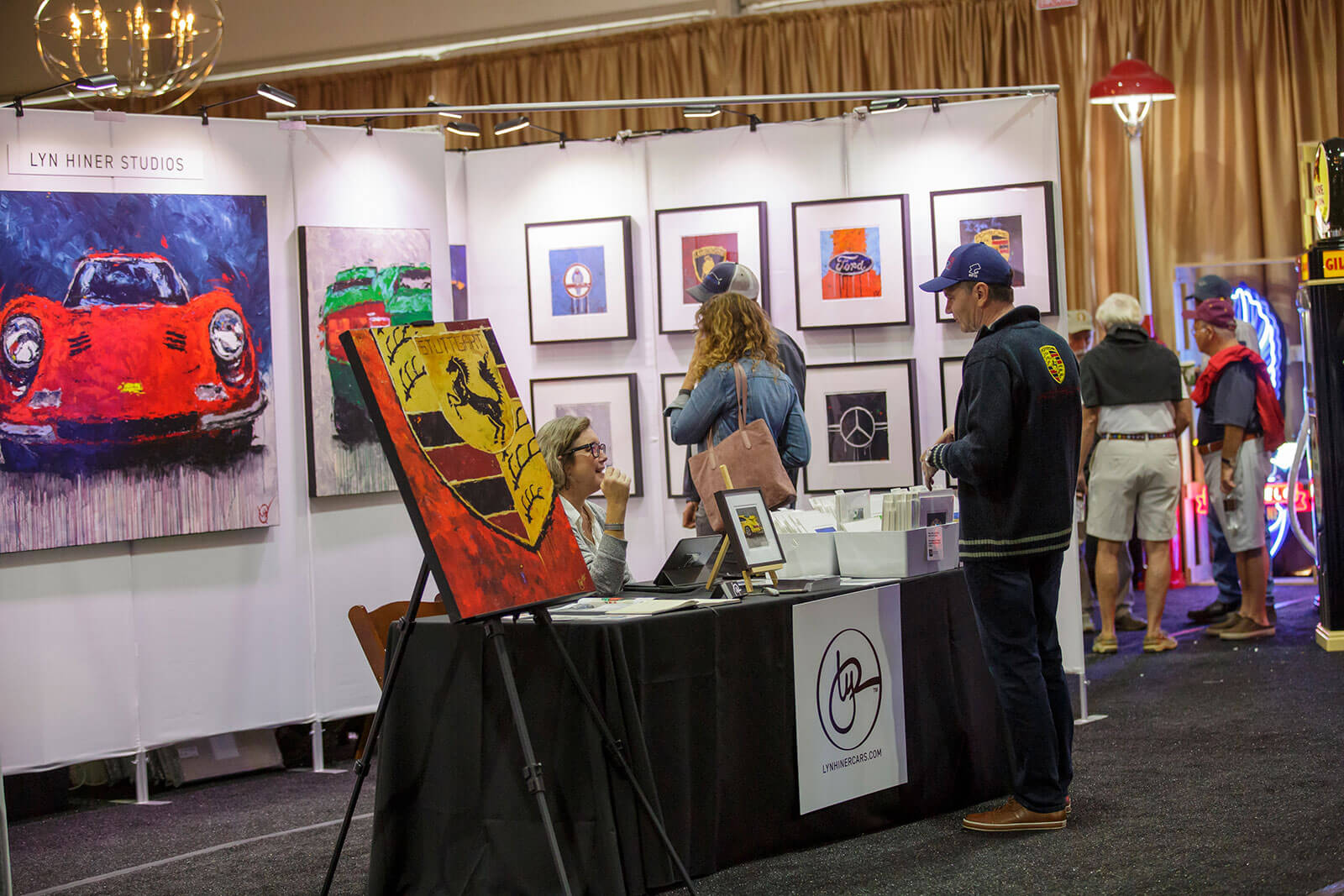 Our 2023 RetroAuto Vendors
Be amazed at the displays and merchandise our vendors from all over the world have to offer. Visit the RetroAuto Pavilion, located in Concours Village (open to the public with no entry fee), and walk away with a piece of the 2023 Pebble Beach Concours d'Elegance.
ACABA Gantier
Discover a collection of gloves handmade in France, Italy, ands Portugal, from the finest materials and the most beautiful colors. Stop by and give your hands a gift of comfort and elegance.
Brinkman Automobilia
By Grace Through Faith
Al DiMauro's Automotive Artwork includes original acrylic paintings on canvas, giclee prints of original works on canvas, paper prints ready to be framed. Commission Al to paint your automotive love story on canvas.
David Chapple, Inc.
Original automotive paintings and sculptures.
Crash Jewelry
Sustainable jewelry made from the metal of luxury cars.
Hartnack & Company Ltd.
Handmade luxury and bespoke binders and box files for your classic car's paperwork. Each can be custom ordered in a variety of materials, colours, and embossed type and logos to match your car.
Horton Books Limited
Leading suppliers of both new and out-of-print motoring literature worldwide. Their vast inventory reflects the thirty years that they have been in business.
Heinz Bauer
Since 1960, our family has handcrafted the ultimate driving jacket in Stuttgart, Germany. We start with the best leather, prioritize function, and finish with uncompromising quality.
Keith Collins Artexture
Keith is a Los Angeles-based artist and musician creating handmade tapestries, rugs, paintings and assemblages for celebrities, collectors, and art lovers of all kinds. He infuses his work with warmth, humor, and humanity, always coming from a place of love for the subject.
Kokin Hats
The hats of Kokin are often seen crowning celebrated women, including those on the Pebble Beach Concours d'Elegance show field. Don't miss seeing these works of art!
Layzell Art
Tim Layzell, our 2023 Poster Artist for all three posters, has a booth at our RetroAuto Pavilion. Come by to meet Tim, who is regarded as one of the Worlds' leading motoring artists. Tim will be making several surprise appearances at the RetroAuto Pavilion. Purchase a poster at the adjacent Concours Vault and have it autographed.
Liverpool MotorWorks
Specializing in rare British Automobilia, with a heavy emphasis on "New Old Stock" lights, books, manuals, and tool rolls that came as original equipment.
Lyn Hiner Studios
Lyn Hiner is an internationally recognized automotive artist known for her bold color selection and abstract expressionist style, capturing both energy and motion on canvas.
Optimo Hats
"The Best Hat Made" —uncompromising quality, elegance, and exceptional craftsmanship for those who appreciate true luxury, enduring style, and unmatched functionality.
Rachelle Boutique
Rachelle Boutique specializes in a beautiful, ever-changing collection of new and previously loved designer handbags, jewelry, and haute couture.
Raebot Art
Raebot is the sole creator of a controlled oxidation medium called Mercurial Art. His original process will grow and change within the confines he constructs.
Raeder Works
One-of-a-kind automotive sculpture and furniture
Fabrice Spies Fine Art
Fabrice Spies is a self-taught acrylic painter specializing in mid-century colorful lifestyle and classic cars. He will be displaying original paintings as well as limited edition giclées on metal panel and paper.
Suixtil USA LLC
The Suixtil team recreates iconic clothing using a rich mixture of historic designs, premium materials, exacting quality and well-researched details to bring you back to what it means to live At Life Speed!
Telfer Design, Inc.
Passion, speed, and color dominate the work of California-based artist Kelly Telfer, who has been named Motorsports Artist of 2023 by Auto News, WA". Visit his booth and assist Kelly with one of his paintings.
The Vault at RetroAuto
Official Pebble Beach Concours d'Elegance posters, hats, memorabilia, outerwear, and accessories. Proceeds benefit local charities.
V12 Enterprises
Perfected by artist Bill Pack, "Painting with Light" offers car enthusiasts a way to capture the beauty and sentiment of their favorite make, model, or memory. Bill is an artist with the soul of a sculptor and the eye of a designer.
Vintage Radios
Restored radios from the 1930's and 1940's.
Walter Leather Altier LLC
Crafting bespoke leather jackets for 30 years – where quality and design meet. "Looking for a statement piece that captures your passion for automobiles? We are here to bring your vision to life"
White Eagle Antiques
Concours restorations of American Industrial Art, including neon signs, gas pumps, and other unique Automobilia.
"

Vintage car collectors and enthusiasts also fully appreciate the finest in luxury — be that automobiles, jewelry, watches, handbags and fine homes.

"
Christie's International Real Estate